Product Categories
RS-Series
RS-Track and Trail Machine (TNT)
RS-Ice Resurfacers
Lawn and Grounds CareNORTEC MarketingAgricultural Products
Contact us today to learn about our dealer program and exclusive benefits.
CLICK HERE
RS-Roadside Machine
Roadside Processing Machine with 12-in. offset frame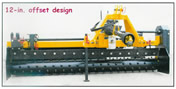 Overview
The offset design provides for machine overhang while retrieving gravel from the ditch. It also narrows up machine overhang on the lefthand side (road side), making it a more productive machine. Heavy-duty 4x4" main frame, double #80 drive chain and sprockets, adjustable posi-lock material bar processing control system, and angled cross-over 4-ply materials bar.

Literature
N/A

Photo Gallery
N/A

Video Clips
Video clips are in Windows Media Video format.